You Might Be A Pirate If You Clicked On This Website!
You may have been born two hundred years too late but that don't mean you may not have all the ingredients it takes to make a good pirate. And speaking of ingredients, do you know how to make a killer "boat drink". And, do you have some great "boat songs" to go along with that drink? I don't know which came first... "The Boat Song" or "The Boat Drink", but I do know this... Any good Pirate or Wench worth their salt will have them onboard. So, to make absolutely certain you are ready for your next cruise on the Caribbean... okay so maybe just down the river, or your local recreational lake in da mighty pontoon... make sure you check out our boat song listing and recommended boat drinks.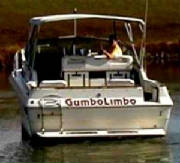 "Gumbo Ron Has Left The Marina"
~~~~~~~
Okay Mates...
Before you go be sure to check out the new tropical rockin' CD, "Playing For Belikins On The Toucan Trail. If you like the idea of escaping to Belize, even if it's on your Harley, then you're gonna like this CD!